3 Day Telecall Series: December 19th – December 21st, 8pm EST
This telecall series was great fun and I covered a lot of info that is useful far into the future! You can order the .mp3 audios via the same link that is listed below.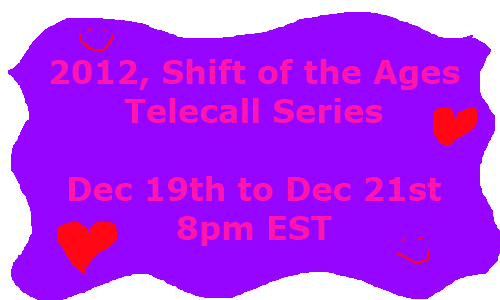 Dear Ones,
Join me live in telecall format (group telephone session) as we work together to heal the planet and ourselves!
Here is a 1 hour interview by Roger Haeske about my upcoming 2012 telecall series!
Roger Interviews Rama about 2012 Telecall Series
This is your opportunity to help usher in the 2012 Shift of the Ages, and also prepare for this Shift!
We will be meeting the 2 days prior to December 21st, and also meeting on Dec 21st itself!
I will be sharing information about what the 2012 Shift of the Ages is all about, as well as giving you techniques to practice to heal yourself and help the world.
The secret of 2012 is that the end of 2012 marks the end of an entire Cosmic cycle, not just a local galactic solar/planetary alignment.
Literally, December 21st, 2012, marks the end of an entire Cosmic Cycle / Revolution of all celestial bodies.
During the call, there will be an introductory time period where you can all meet and hear from each other, and then a time when I mute the line and only my voice can be heard, so that you can all focus.
I will have time to take questions at the beginning of each call, and incorporate your questions into the flow of the call!
Let us work together to prepare for the 2012 Shift of the Ages, as well as to ensure that the maximum benefit occurs to all people in the world and the planet Herself during this once-in-a-lifetime window of Energetic Opportunity!
♥
Rama